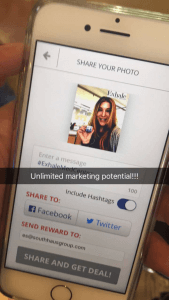 Recently, I was asked by Women In Tech to take over their Snapchat for the day on #FounderFriday. Let me start out by telling you who I am: my name is Elisabeth and I am the founder/owner of SouthHaus Group, a Creative Agency that caters to PR and digital marketing needs of businesses, brands, and celebrities. Not that I ever expected to end up in tech, but hell, I love it. Women In Tech was very interested in one of the niche markets I service: combining cannabis with technology. More specifically, I have a strong department within my company that specializes in mobile app development that allows the cannabis industry to market themselves without getting shut down in social media accounts and advertising. Using our new mobile app, my company is able to offer the cannabis industry the chance to market themselves without risking unpredictable social media accounts and advertising.
Since 2012, legalizing recreational marijuana has been gaining momentum with Colorado and Washington trailblazing the way. Cannabis has begun its battle for mainstream acceptance, and the industry struggles to advertise its products and reach a larger consumer base. This is due largely to strict regulations online, on television, and on the radio. Despite individual state legalization, most of the industry can't find a solid medium to expand their outreach. Over half of our nation's states, including Washington DC, have legalized medical marijuana as of this post, yet Federal law still prohibits its' sale. Obviously this hypocrisy will not continue. Medical research is currently being done and published on marijuana's health benefits to better understand to whom and in what form it should be distributed. These new publications will slowly get rid of the taboo "stoner" stigma that is still present in society.
I never planned on getting involved in the cannabis market, but as fate would have it, I moved to California. Need I say more? I moved to LA from NYC and got a crash course on all things cannabis, breaking down my preconceived notions and opening my mind to this plant's possibilities. When I was building SouthHaus Group I was approached by friends who owned dispensaries and grows (cannabis farms) that wanted my help advertising their businesses and products. Despite adhering to each platform's guidelines, their social media accounts were being deleted without notice or explanation. Each account could have hundreds of thousands of dedicated followers that were now unreachable and open to pursuing other products. So I had an idea…
My project manager, Neal, had developed an App (patent pending in the U.S. and Europe) I realized could be white labeled (an App marketed and labeled under the specific brand as their own creation/product) and customized for the cannabis industry. Cue the fireworks. The dispensary owners and product line managers were ecstatic. Our fully customizable turn-key App is UCG (user content generated) and a loophole for advertising anything cannabis related. That's when Women in Tech asked me to host their Snapchat account for the day. As a female business owner, it was an honor to be invited into a community of women that are as passionate and invested in technology as I am. There's not enough of us in this industry, and it's essential we stick together.
The lovely lady who runs the channel, Suzanne Nguyen, Skyped me from Australia before my day to host, ecstatic to find someone in the new and emerging market of cannabis and technology . It was enlightening for me to discuss policies, politics, and investments with someone so knowledgeable in this industry. During my takeover on Friday, I was happily surprised by the people around the world messaging me their personal stories and questions and interest in our app and cannabis. By the end of the day I realized that with conversation and education, so much progress and unity are possible. What did #FounderFriday teach me? Three things:
1. Dialogue can open minds. The response I received on Snapchat proved further to me that more minds think alike than the media and news would have you think.
2. People inherently want to grow and educate themselves on the world around them.
3. Creativity and necessity are truly the founders of invention.
If you are interested in hearing more about the App and how it can be customized for your business, contact us at SouthHaus Group and we are happy to set up a free demo for you.